✓ No hassle simple contracts
✓ Fast delivery and pickup
✓ Customer friendly staff
✓ Serving the Daytona Beach area
✓ Call 386-492-9608 today!
✓ Satisfaction guaranteed
Renting a dumpster is not as complicated a process as it may sound.
Rather it is pretty much common and quite usual to rent a dumpster for the proper disposal of waste materials. Setting a dumpster takes just a phone call and a few minutes for the complete setup. But there are certain precautions to consider before you go ahead and rent a dumpster for your home. It is important to abide by certain rules and regulations for waste disposal in dumpsters, for safety concerns.
Precautions When Renting a Dumpster for your Home
1. Know About Dumpster Weight Limits
Since each dumpster has its own designated waste weight limits, it is important for you to decide on the weight of your trash before you rent a dumpster for your home. Dumpster weight varies from location to location, and trucks and landfills can only accept a certain tonnage of trash in a dumpster. This limit is regulated by law, thus it is important for you to have an idea about the same to avoid overcharge fees.
2. Know What Wastes can be Disposed in Your Rented Dumpster
A dumpster rental company has a provision for hazardous waste disposal. Unless you have availed for this service of the dumpster rental company, you can dispose of only regular trash in the rented dumpster. If you are unsure, you can always call up our office and learn about which wastes can be disposed of in your rented dumpster. Trash containing acids, batteries, cleaners, solvents, flammable objects is generally not allowed in a regular dumpster.
3. Keep Children and Pets Away from the Dumpster
Since dumpsters contain waste materials, it is important that you keep your adventurous children away from the trash. Exposure to the contents of the dumpster could prove harmful for them, since they can contain sharp metals and toxic objects. So it is always recommended to close the doors of the dumpsters as a primary precaution. The same precautions need to be taken if you have pets at home.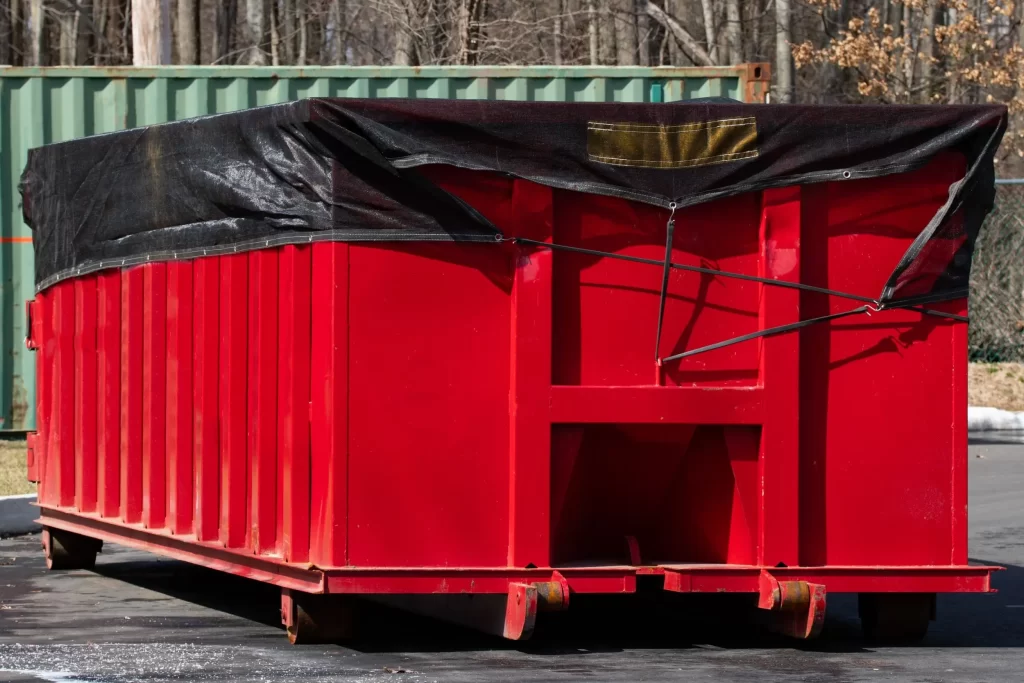 4. Educate Yourself about the Hazards that Come With Residential Dumpsters
There are various kinds of hazards that you should know about before renting a dumpster for your home. Some of these include:
Slip/Fall Hazard – Dumpster floors are generally slippery from previous rentals. You should exercise optimum caution while walking into a dumpster to avoid slipping and falling.
Climbing Hazard – You must not try to climb the dumpster as it can lead to a fall.
Striking Hazard – Before you dump and/or throw objects into the dumpster, make sure there is no one inside it.
Door Hazard – A dumpster door should be fully opened and secured in the given latch to avoid swinging doors from hurting anyone.
5. Inform Your Family about Dumpster Rules and Hazards
It is important that you know about the risks and rules which accompany a dumpster. Make sure you tell your family about it, especially the younger ones. This is to ensure that no law is broken, and no accidents occur.
✓ No hassle simple contracts
✓ Fast delivery and pickup
✓ Customer friendly staff
✓ Serving the Daytona Beach area
✓ Call 386-492-9608 today!
✓ Satisfaction guaranteed