✓ No hassle simple contracts
✓ Fast delivery and pickup
✓ Customer friendly staff
✓ Serving the Daytona Beach area
✓ Call 386-492-9608 today!
✓ Satisfaction guaranteed
Are you a true professional roofer who always believes in leaving the job site clean after the work is done?
That's great and a dumpster will come in handy for you here. When you replace a roof, you have to ensure proper disposal of the old shingles and debris. This is where a dumpster rental will come to your rescue. A dumpster rentals company will send you the dumpster to your job site as per your directions. You will just have to fill it up and then call the rental company for pick-up at a scheduled time.
The post below offers some tips while hiring dumpster rental services for roofers.
Get a comparative study
There is no dearth of dumpster rental companies around but not all are worth the salt. Do not settle with the very first company you come across online?
It's better to get a comparative survey on at least 4-5 rental companies before you make the final call. Check out the reputation of the companies and their client testimonials. Your chosen one should be the most reputed of the lot with good experience in working for the roofer experts. A dumpster rental company which works exclusively for homeowners may not have thorough understanding of the typical dumpster needs of the roofing professinals. You chosen rental company should also be backed by a long list of happy customers.
Know the required size
There are two things to remember while deciding on the right size for your dumpster- square footage and type of roof shingles to be removed. 1 roofing square is equivalent to 100 sq. ft shingles. So calculate the sum of all roofing squares that you have to remove to find out the ideal size for your dumpster.
For example 25 roofing squares will need a 10 cubic yards dumpster. Look for a rental company which offers dumpster size calculator on its website. You can also talk to the rental officials for suggestions on the ideal dumpster size for your project.
Your chosen dumpster rental company should house a versatile inventory with dumpsters in varying sizes.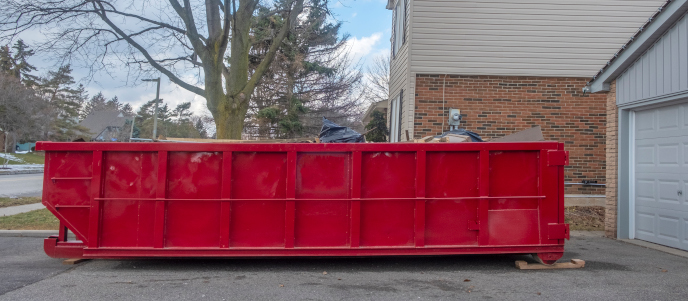 Compatibility with all roofing materials
This is an important point to consider while choosing a dumpster rental company for your roofing project.
Some rental companies may have some reservations about certain roofing materials. But when you are a roofer, you have to work on all kinds of roofing materials. So make sure beforehand your chosen dumpster rental agency is compatible with any type of roofing material.
Seasoned and trained haulers
A leading dumpster rental company usually works with seasoned haulers and drivers for the best carriage and disposal of your roof debris. Before you sign up with a rental company, don't forget to ask about the experience of haulers working there.
Try for a discounted deal
By virtue of being a professional roofer, you will often be asked for roof replacement and repair jobs. It means you will frequently need to rent a dumpster for project sites. So request the rental company to get you a discounted price on regular orders.
✓ No hassle simple contracts
✓ Fast delivery and pickup
✓ Customer friendly staff
✓ Serving the Daytona Beach area
✓ Call 386-492-9608 today!
✓ Satisfaction guaranteed